In 2017 I was searching for rock climbing locations in Moldova by looking at satellite images of the country. I noticed this place. Together with Marina we came here by bicycles. We were impressed by the overhanging grottes here. In 2020 we bolted a highline and first sport climbing routes.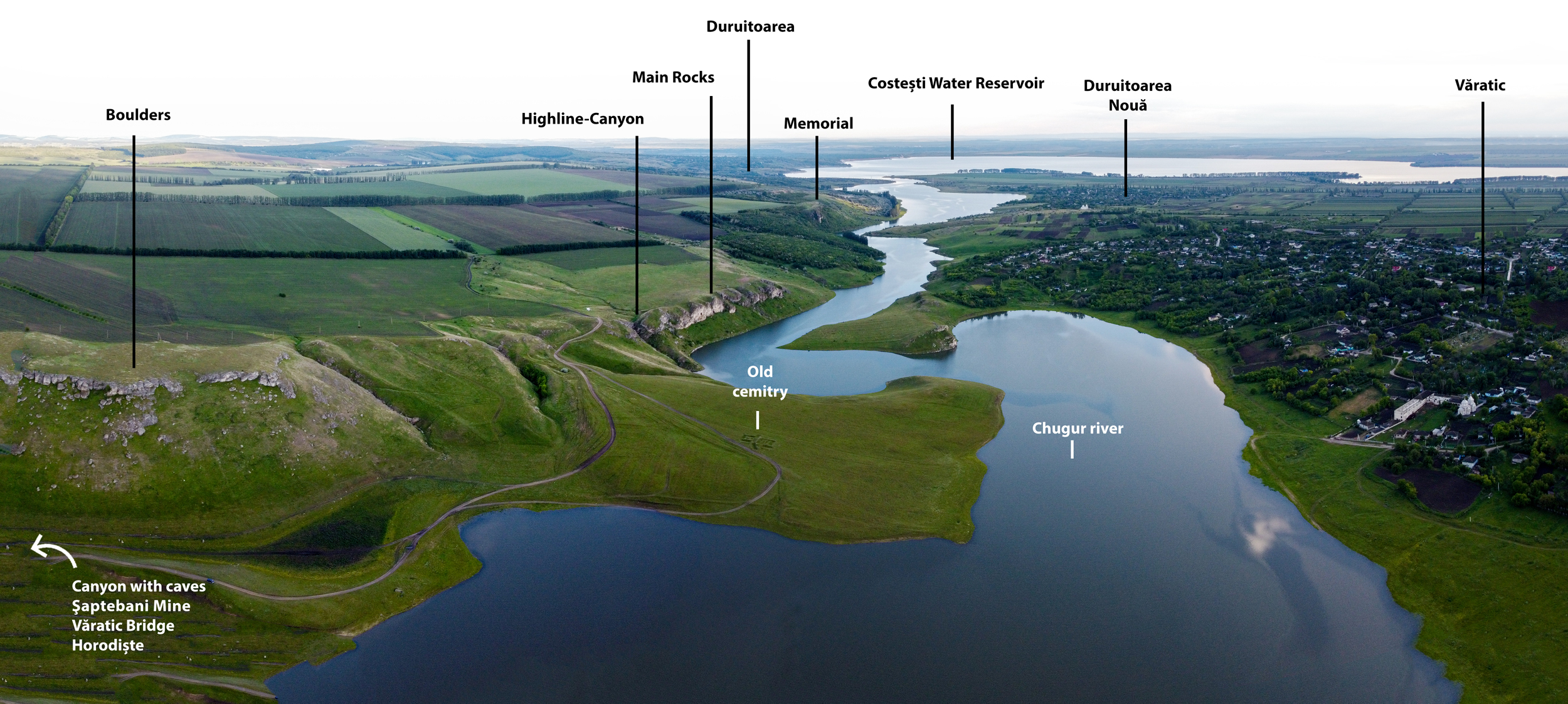 По-русски: Скалолазание в Вэратик.
«Main Rocks» are situated at the bank of the Chugur river (Costesti water reservoir). On the opposite side of the river there is Văratic village. The wall is 350 meters wide and up to 35 meters tall. Rock is very dense: in some places, sparks are flying from hammering. It is sometimes monolithic, but more often it consists of many individual stones and blocks of different sizes.
General information
You can reach the rocks from the bridge in Văratic, or from Duruitoarea. In both cases you have to drive dirt road. After heavy rain it might be not possible to pass with normal car. The road, despite its quality, is very busy, as it makes it possible to shorten the distance when travelling between villages.
You can find good spots for a tent placement on the map above. The only place with shadow is near the forest (1.5 km away in direction to Duruitoarea). As an alternative — you can stay at Duruita Camping in the village Duruitoarea (7 km), or at Casa Varatic (4 km).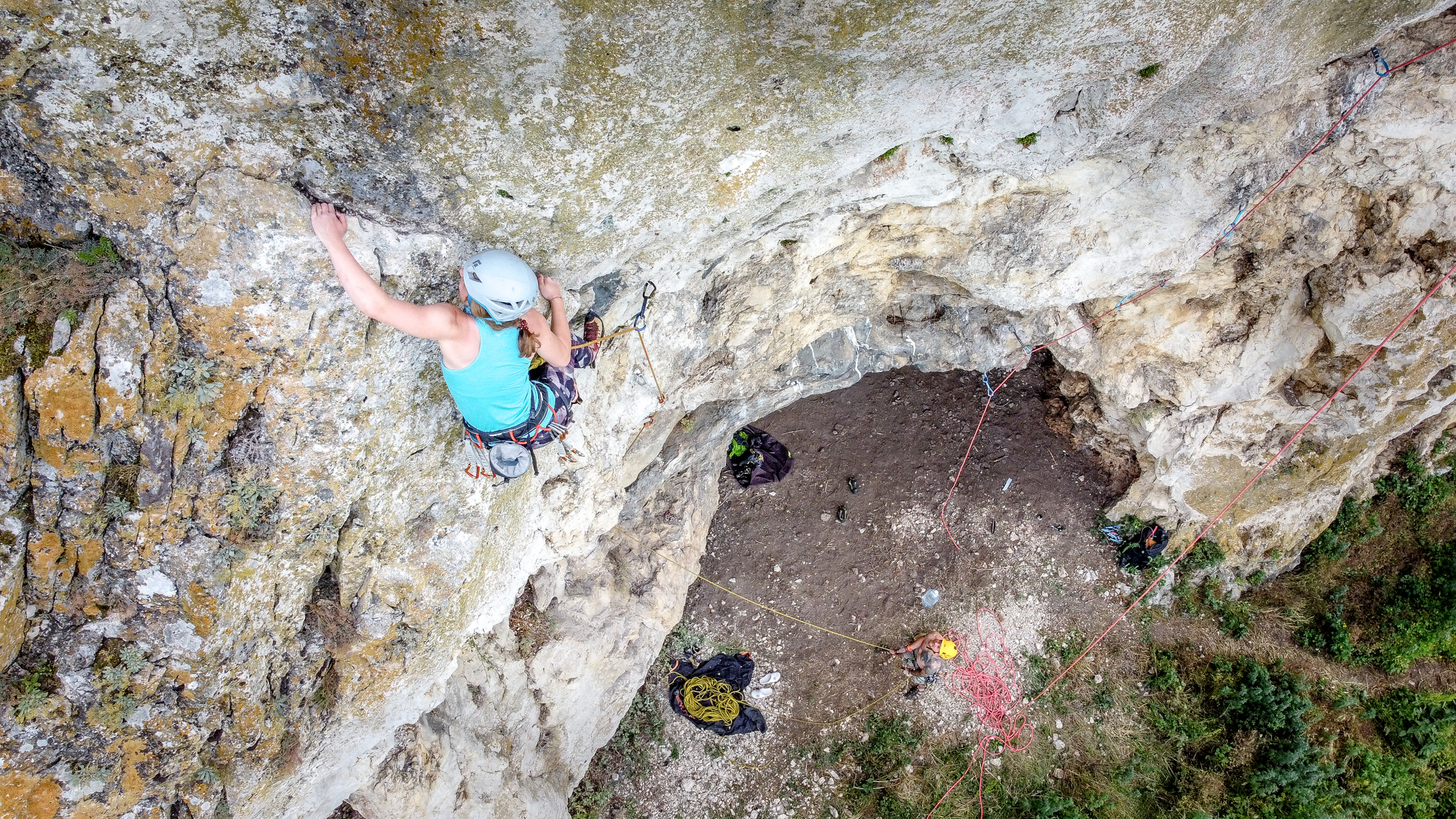 It's best not to leave your things unattended.
A spring is a small hole under an arch of stones that slowly fills with delicious drinking water.
Climate is the same as in Cobani with only except that sun starts shining on the wall after 3 pm. Luckily it is possible to swim in cool water just below the rocks.
Warning! Rocks can fall from above. Be sure to wear a helmet, belay from a safe place, be careful. Especially after rain and away from the routes.
Routes
Routes bolted for lead climbing are shown with red lines. Triangle shows the anchor. Dashed white lines show routes suitable only for top rope.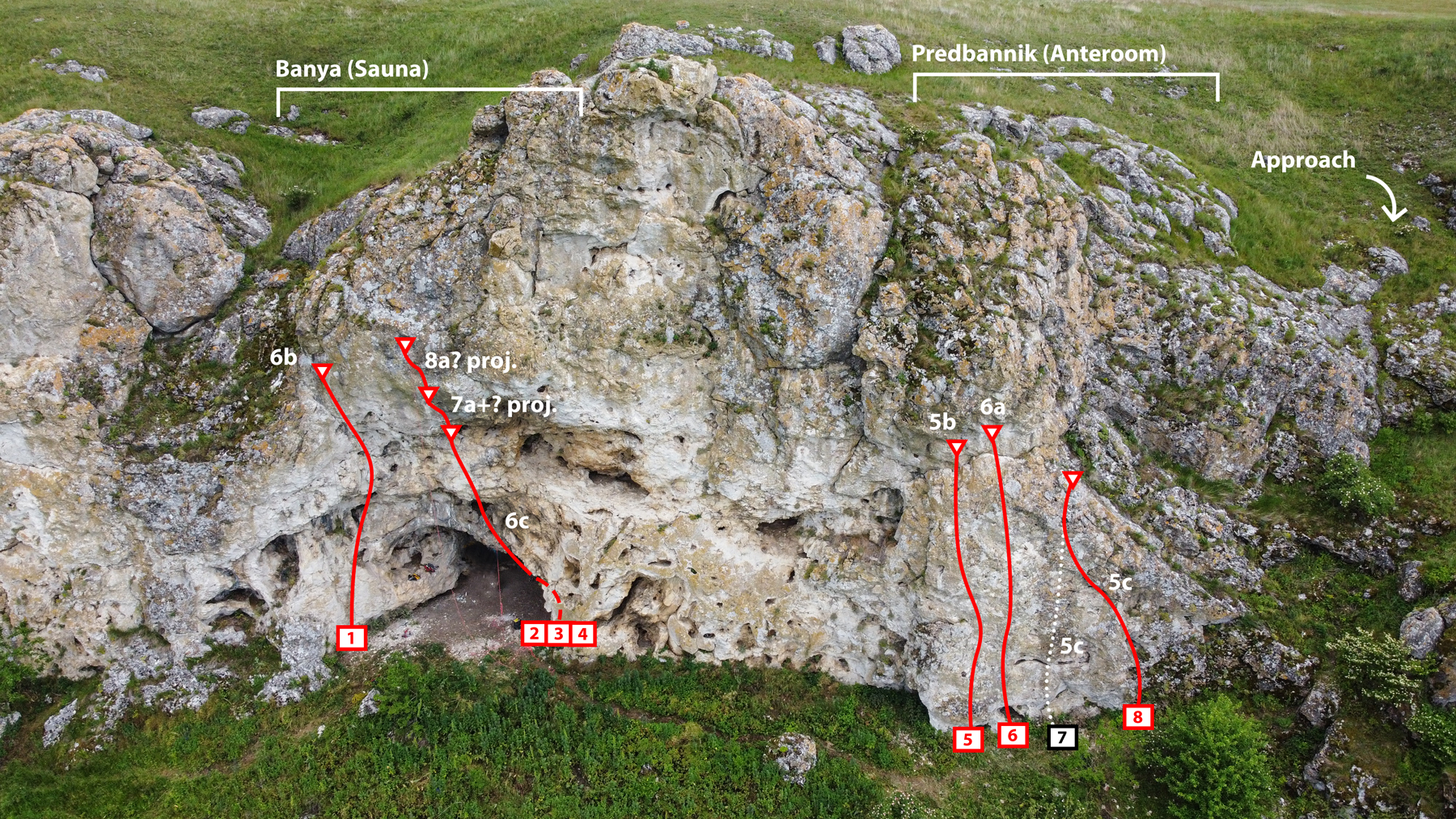 We spent quite a lot of time removing loose rocks, but it can still happen that you can rip off something. Be sure to use a helmet and be careful. Feel free to bring a bigger brush with you.
| № | Name | Sector | Type | Difficulty | Length | Quickdraws | Note |
| --- | --- | --- | --- | --- | --- | --- | --- |
| 1 | Katapulta (Catapult) | Banya | lead | 6b | 15m | 7 | |
| 2 | Zagadka dyry (Hole puzzle) | Banya | lead | 6c | 13m | 6 | до первого болта с кольцом |
| 3 | Zagadka dyry (Hole puzzle) | Banya | lead | 7a+? proj. | 16m | 7 | до второго болта с кольцом |
| 4 | Zagadka dyry (Hole puzzle) | Banya | lead | 8a? proj. | 20m | 9 | до верхней станции |
| 5 | Pastushok (Shepherd) | Predbannik | lead | 5b | 13m | 7 | |
| 6 | Rybachok (Fisherman) | Predbannik | lead | 6a | 13m | 7 | |
| 7 | Lesovichok (Forestman) | Predbannik | top rope | 5c | 11м | | |
| 8 | Moryachok (Sailor) | Predbannik | lead | 5c | 11m | 6 | |
Route "Zagadka dyry (Hole puzzle)"
We really wanted Moldova to have a challenging route for us. A project that would motivate us for hard training. The route turned out to be 20 meteres long. It overhangs by 6 meteres. The higher up, the more difficult it becomes. Up to the sixth quickdraw it is 6c climbing: steep overhang on good holds. Moves up to seventh quickdraw can be a 6c+/7a boulder problem by themselves. From the seventh quickdraw terrain is very poor: slopers, small crimps and small pockets. To make it interesting for everyone, we divided the route into three variants of passing: to the sixth bolt, to the seventh and to the top anchor. Чтобы всем было интересно, мы разделили  маршрут на три варианта прохождения: до шестого болта, до седьмого и до станции. There are rings on the sixth and seventh bolt and it is possible to descend from them. The first quickdraw is more than three meteres high, on the ceiling, you need a stick to clip it. Use longer quickdraws to reduce the friction.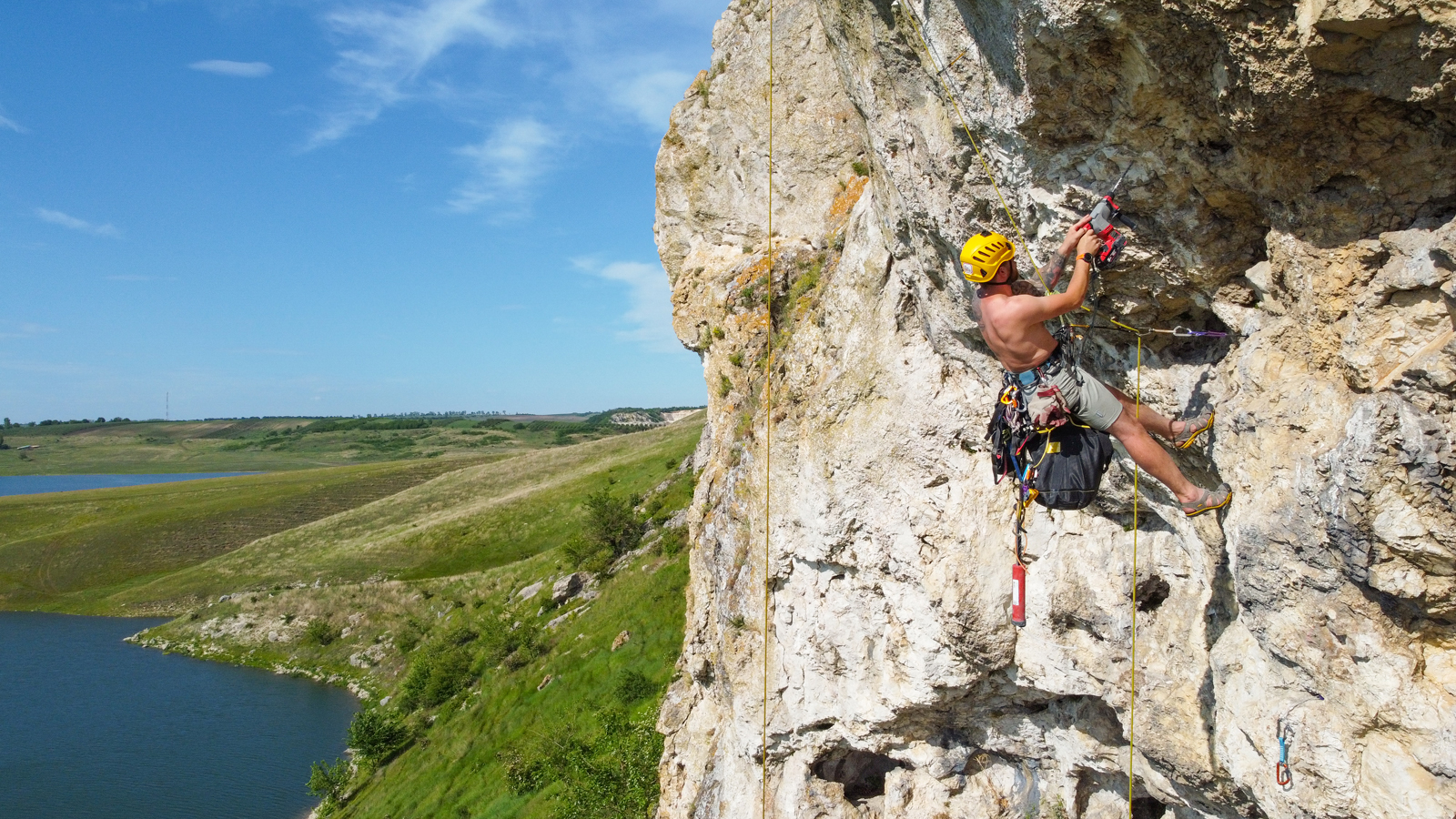 Potential
On the "Main rocks" there is still a potential to bolt at least 10 routes: from 5a up to 8th. In some places rock is badly eroded. You need to spend days to clean each individual route.
Nearby, on a high hill, there are "Boulders" - freestanding rock of 5-8 meteres high. Not suitable for bouldering - the slope is steep at the bottom and it's kind of short for rope climbing. It is possible to put top rope on natural anchors and climb that way.
Towards the Șaptebani quarry, there is a canyon of a small river flowing into the Chugur. There are two two caves with steep ceilings and rich terrain on the sides of the canyon. They are suitable for bouldering and for challenging sport climbing routes. The approach is uncomfortable.
There are rocks and a cave opposite the village of Gorodiste; they need to be explored in more detail.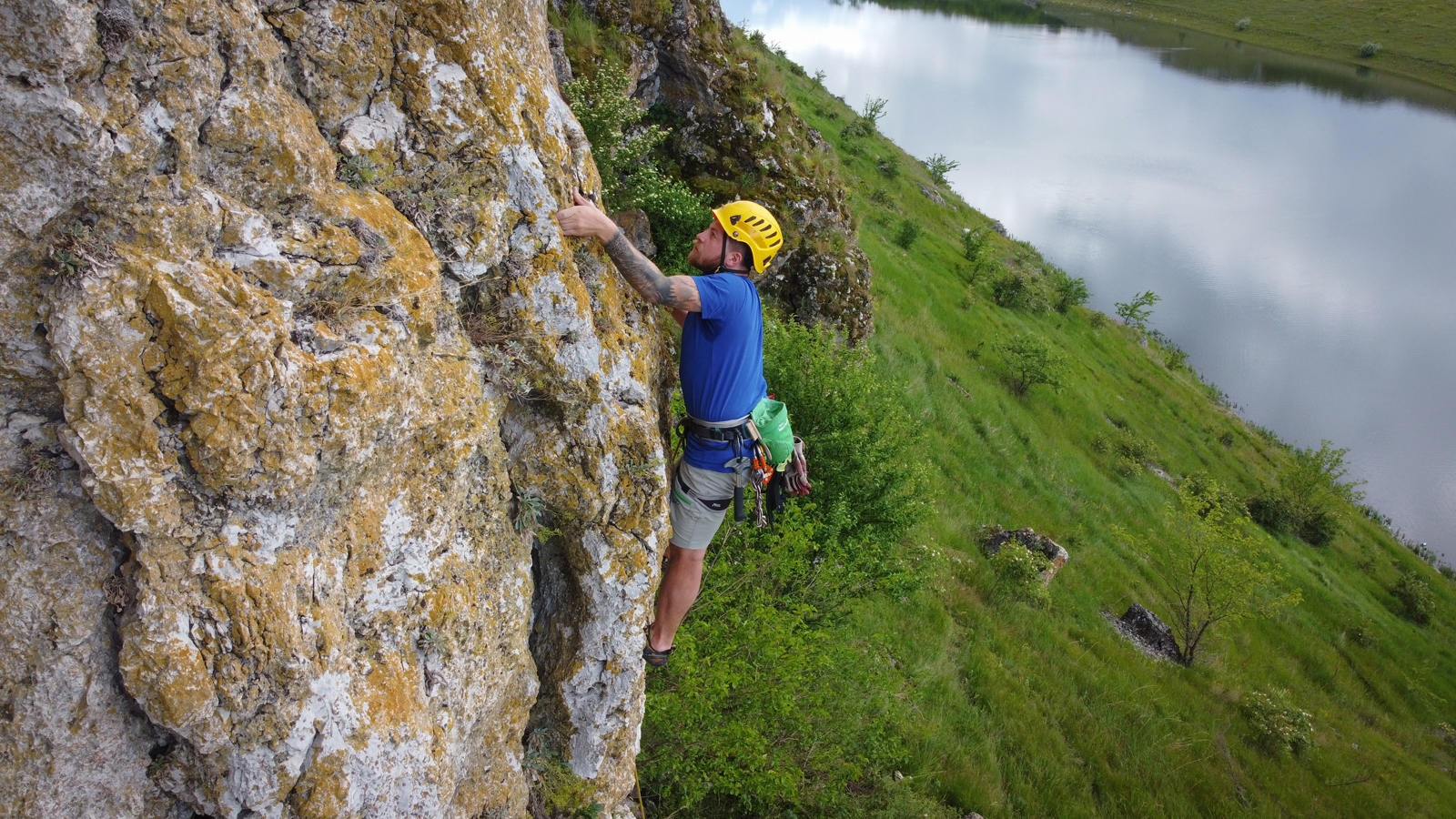 If you have any comments, suggestions or additional information, please contact me on facebook.